Upside, The
PG-13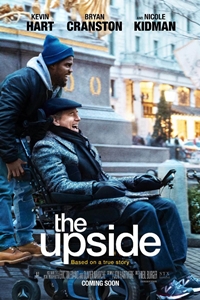 play trailer
▶


Play Trailer
Inspired by a true story, The Upside is a heartfelt comedy about a recently paroled ex-convict (Kevin Hart) who strikes up an unusual and unlikely friendship with a paralyzed billionaire (Bryan Cranston).
DetailsComedy , Drama
1 hr. 58 min.
Opened January 11th, 2019
Rated PG-13 for suggestive content and drug useCastBryan Cranston, Kevin Hart, Nicole Kidman, Julianna Margulies, Aja Naomi KingDirectorNeil BurgerWriterJon Hartmere
Today's Showtimes
No showtimes available
on this date.